David Hemstock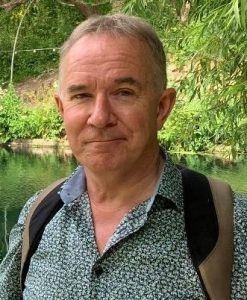 Member of the Institution of Agricultural Engineers. Member of the European Institute of Golf Course Architects.
David has over 35 years experience in the golf and sports world, as an agronomist, designer and consultant on a wide range of project aspects, including technical assessment, planning applications, tender documentation and construction management and aftercare.
A keen sportsman ('jack-of-all-sports, master of none'), he learned the basics of golf and maintenance caddying from 8 years old for his grandfather, an artisan member of the local golf club. He has a BSc in Agronomy and Post-Graduate Diploma in Soil  & Water Engineering from Cranfield University. After working on golf, sports and land reclamation projects he joined the Agricultural Development & Advisory Service in 1985, becoming the National Golf & Sports Advisor during the times of agricultural diversification.
After setting-up Hemstock Design in the early 1990s, he joined the British Institute of Golf Course Architects, (now EIGCA), with UK golf and sports work developing into international work from 1995. David worked with the Sports Turf Research Institute from 2000 to 2011, whilst continuing with his own projects. In 1999 he drew-up plans for the first lighting gantry for sports pitches, and has worked on innovative equipment design and technological advances in agronomy, including creeping bent and salt-tolerant Paspalum use.
His projects include 25 new golf courses, including the Amby Valley Golf Course near Mumbai, voted 'the Best in India' in 2006, the master-plan for the new Royal Ascot Golf Club with the STRI, The Korineum in Cyprus, and David is proud to be working with the now second generation owners of The Manor Golf Club near Leeds, more than 25 years after building the course.
Sports projects include design and agronomy work for two Olympics, the Commonwealth Games, Cricket World Cup, All-India Football Federation, King Abdullah University of Science & Technology, Charlton AFC, Highgate School, Kendal RUFC, Huddersfield Giants RLFC and the equally rewarding local golf and sports clubs.
Other members